How We Helped 1 Lakh families with #ManaMadrasKosam ?
Social Media is a strong and the most powerful tool these days to connect each other over the internet. One who can make good use of it can succeed in any field or in any kind of situation. Similarly, it works in the most effective manner when dealing with the social causes.
People these days are reacting generously with kind heart to support and help people who are suffering during the natural disasters. They are coming forward to play an active role in the relief works. During the recent Chennai Floods, the Social Media is the main platform that made the situation better and controlled by connecting with each other in arranging all the needs. Especially the Twitter helped to reach the victims and people could be able to provide the relief to them in a short time especially to those who were struck in low lying areas that are flooded with water.
Most of us will directly or indirectly have a special connection with Tamil Nadu state especially Chennai, the capital city of Tamil Nadu. Before, the Andhra state was formed, we are a part of Tamil Nadu. Also, our film industry existed in Madras first and then it was shifted to Hyderabad. Many technicians in the film industry are Chennaites and we have so may actors from Chennai. We watch Tamil movies, Our second option to study in after our state is Tamil Nadu, Most of us have at least a single friend staying in Chennai, Most of us have friends on Facebook who are based in Chennai. In one or the other way, our Telugu speaking people have a special connection with Chennai. We were very much moved by watching the visuals of floods on Television. We could not digest the fact that Our friends, relatives, actors and common people from Chennai are suffering.
Very soon, we started to react! We just stopped praying for Chennai and initiated the way to help Chennai in the best possible way we are able to do. In the process, after getting inspired by a tweet from a friend on twitter, we stated reacting. We formed a group of 7 (Thrilok Dandu , Dileep Kumar Kandula, Umakar Yanna, Rayarao Sriram, Srinivas Porika, Chaitanya Vegesna and Ganesh PSR). We asked our friends on Facebook to come forward with their contributions like Food, Water, Medicines etc.. We strongly decided to help Chennai in any way possible and have paused all our other works. With in not time, we also got support from Telugu actors. We all teamed up and started the campaign called #ManaMadrasKosam which slowly caught the attention of so many wonderful people on social media who voluntarily came forward with their contributions like Food, Water, Biscuits, Clothes, Blankets etc,.
Gave Free Recharge to the ones Stuck in Chennai
We posted an update on Facebook asking for contributions as we planned to take them to Chennai the next day. Initially we set up 3 places as pick up points (Yousufguda, Kothapet and Jubile Hills) so that people in Hyderabad can pick their convenient spots and drop the supplies.
Chaitanya Vegesna, owner of Syala Drive In, a food joint of Hyderabad helped a lot by contributing three trucks of supplies to us and provided the food for 250 families. His is a major contribution for #ManaMadrasKosam
Within few hours, we got huge response from our social media friends on Facebook and Twitter. Thanks to all who have spread the word and took our campaign to the next level. Every single biscuit packet and every single water bottle we started receiving filled a lot of confidence in us and it is from our actors Navdeep, Bhupal Raju, Nani, Shashank, Akhil Karteek, Rana Daggubati, Allari Naresh, Manchu lakshmi, Samantha, Mahesh Babu, Allu Sireesh, Manchu Manoj and all others we have build strength and team to send the supplies to Chennai.
..

Finally We started to Chennai with a Container full of supplies to Chennai which weighed up to 7 Tonnes.
Chennai Welcomed Us With Heavy Showers All The Way.
But It Failed To Stop Us From Reaching Our People!
Soon after we reached to an area in Chennai, the people gathered near out truck.
They are not in a way to listen to our words and rushed on to the truck forcibly!!!
Some how we managed to convince them and gave them assurance that we will bring every thing to their door steps which also made our work easy and we could supply all the items to every house in the colony!

Report of First Container
Total 8 Trucks Till Date
So far we have sent 8 Trucks to the affected areas in Chennai.
Truck #1
Truck #2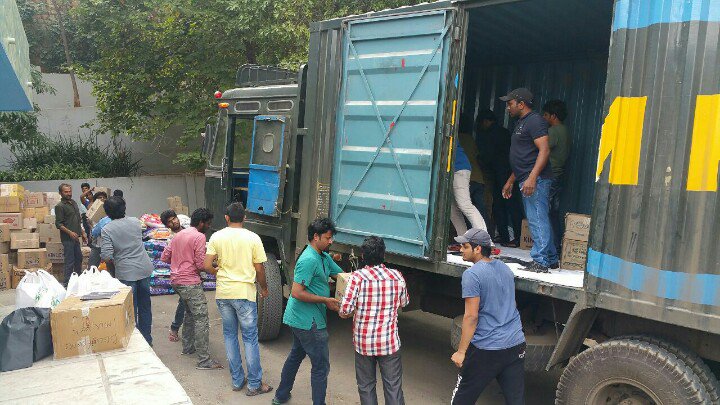 Truck #3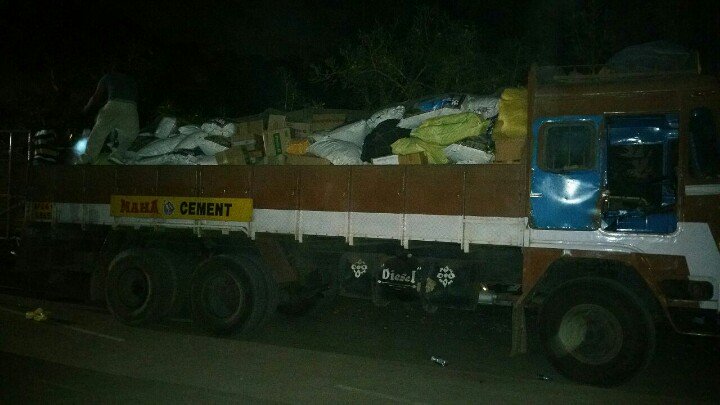 Truck #4
Truck #5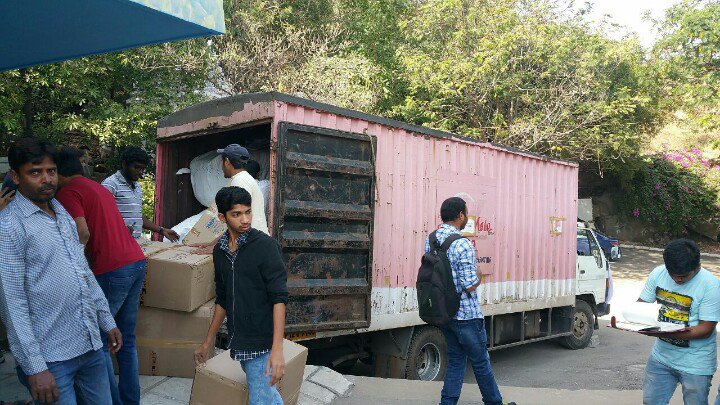 Truck #6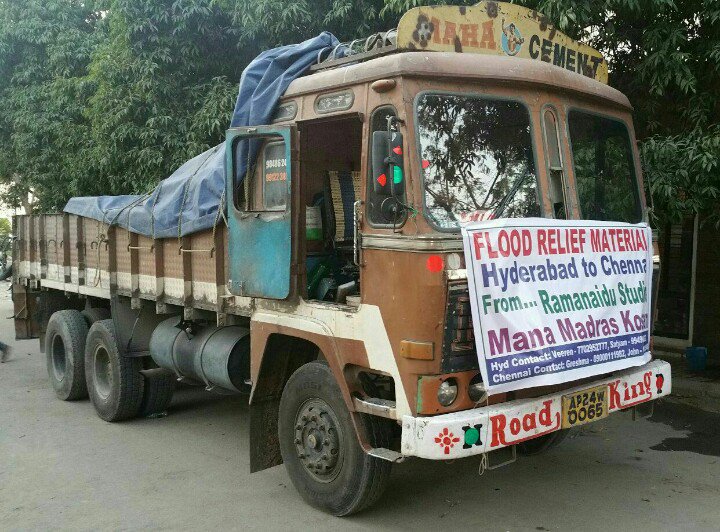 Truck #7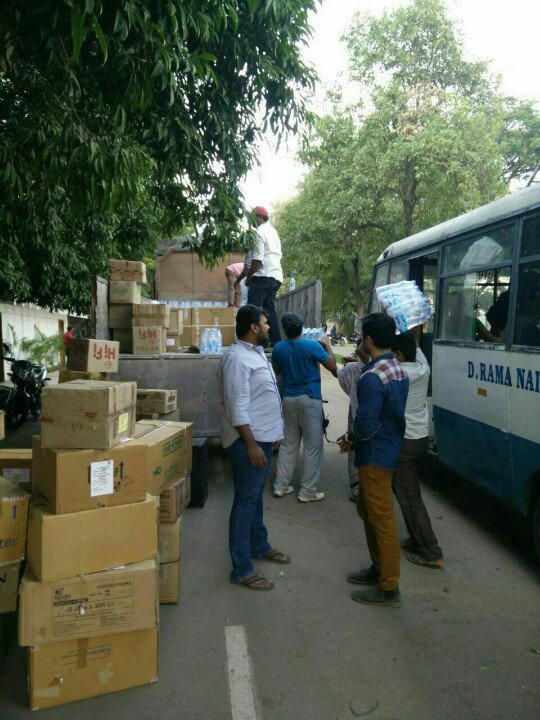 Truck #8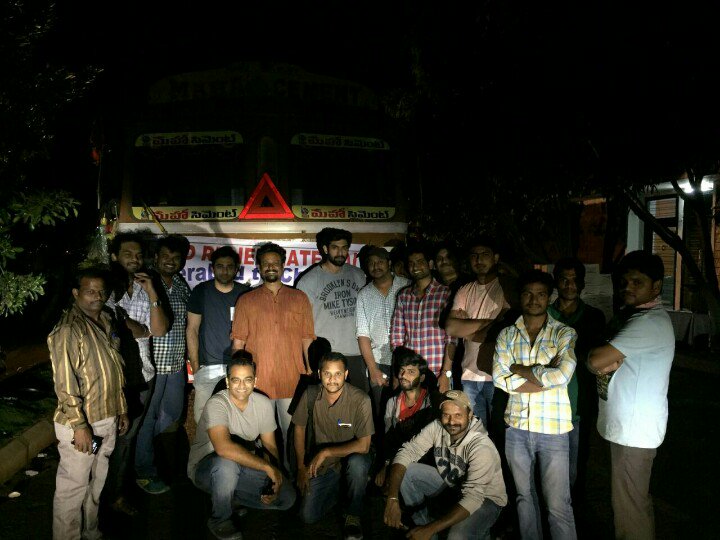 Our Help Reached 1 Lakh Families
With all the 8 containers full of Food , medicine and needy things we managed to help 1 Lakh families affected by floods in chennai. Thanks to one and all who supported this noble cause.
What We Learnt?
The situation in Chennai is really very worse when we first steeped in the city but it is now getting improved with the help of many young volunteers in the city. Actor Siddarth and RJ Balaji stood as an inspiration for us and many more in the country right now and they are working round the clock to provide the relief for the victims. What we learnt after reaching the city is that the help we offered made the people over there satisfied but we know that what we did is very small and we know we can still do our best for our very own CHENNAI city! We immediately returned Hyderabad and meanwhile, our Team in Hyderabad did their best in raising funds, relief materials and required supplies and from the next day, we started receiving the things continuously to our single pick up point Ramanaidu Studios.
We learnt that unity is the best thing that we humans can possess. So many lessons we have learnt in this experience. Thanks to each and every human being who have responded to this. We cant thank enough you all and today we have given the confidence to every Indian that there is nothing called Intolerance existing here and it is all because all of us we are re constructing Chennai and bringing it to the normal state.
How Can You Help Them now :
The donations and contributions are still in progress. Our team at Ramanaidu Studios is working in loading the trucks with the supplies. We have already sent 10 trucks loaded with supplies till date and people who are willing to donate things still can collect them and can drop them at Ramanaidu Studios , Film Nagar.
Support From Big Basket
Also, if you are not in a position to buy the things and drop them at Ramanaidu studios, just order something on www.bigbasket.com with the delivery location at "Rama Naidu Studios" it would be a great help indeed.
Transport Support by OLA Cabs
Just give a missed call to the OLA numbers and they will help to deliver your things to Ramanaidu studios.
Rana Daggubati & Navdeep Reached Chennai With Vaccinations
Support from  Tamil Heroes Siddarth, Vishal and Dhanush
We have sent some of our trucks to Tamil heroes Siddarth , vishal , Dhanush and Rahul Ravindran and they took care of distributing the things in Chennai. Dhanush posted, "Thanking @RanaDaggubati, @pnavdeep26 and team for their immense contribution to chennai. God bless u all"
Stop Praying , Start Helping
Still there is a huge need of food and medicines. Just collect the materials and drop them at Ramanaidu studios. We are planning to ship 2 trucks per day with all the required supplies. Come join us, let us be a pillar of strength to our brothers and sisters who are in need of our help.
Stop Praying and Start Helping. Share this post to reach more people.
PS : Team Cinebuket thank each and every single person who donated, contributed, donating, contributing things and spreading the good word to help our Chennai. We hope that many others will also come forward and offer help to Chennai in the best possible way they can!
Happy Birthday Ram Gopal Varma
April 7th is a special day in the history of Indian cinema. We believe a god was born on that day! He has ruled the cinema industry once upon a time. He fought with several situations and took a birth of God in the name of Shiva. His name is Ram Gopal Varma.
It is Kali Kalam and there is absolutely no place for Gods. We happen to listen several stories of Lord Rama, Lord Krishna, Lord Venkateshwara and many others. We have never seen them but do often listen their stories and celebrate their birthdays as well as victories. Coming to our God Ram Gopal Varma, it is a fact that he lost his charm. He lost his interest but still he did not lose his powers. He might be back any day at any time with any film to surprise everyone. We listen about his success stories of Shiva, Kshana Kshanam, Rangeela.. There are many more on the list. For any young and aspiring film maker, the movies of Ram Gopal Varma works as lessons. The way he understand the technology can never be matched with any other film maker. He is a different person. He is a mad person. He is mental person. Still you look at him with a pinch of curiosity and excitement.
Ram Gopal Varma is known for several things. If there are N number of adjectives to describe a person, all of them can be given to the master. Some people love him and some people hate him but the fact is that people can not take out their attention on him. He is the biggest entertainer on Twitter. Every time you get ready to watch his new film, you wish that RGV is back! But looks like Master is not ready to get out of his rest period. Currently, he shifted his base to Mumbai and has been operating from there. Hopes pinned on his upcoming film Officer
Thank you Ram Gopal Varma for being an inspiration. You will be remembered forever.
How Sound Engineer Chitti Babu Can Speak ?
Rangasthalam is the title of the upcoming movie starring Ram Charan in the lead. The film stars Ram Charan in the role called Chitti Babu. Chitti Babu has hearing impairment issue and the same was revealed in the film's teaser that released yesterday. Directed by Sukumar, the film is being made under Mythri Movie Makers production house. Samantha is playing the female lead in the film. Here is an interesting observation that we have drawn from the film's teaser.
"Deafness is usually the result of the inner ear or nerve damage. It may be caused by a congenital defect, injury, disease, certain medication, exposure to loud noise or age-related wear and tear. The chief symptom is an inability to hear the sound." is the standard definition of hearing impairment. According to this, It's not easy and almost impossible for a deaf person to speak because they never hear anything or anyone speaking. Because, for them to talk, they should know how to speak and how a particular word has will sound.
Going by the teaser of Rangasthalam, we understood that Chitti Babu is deaf, but there might be three reasons for his hearing impairment.
1. Chitti Babu is born deaf.
2. Chiti Babu became deaf when he crossed three years of age.
3. Chitti Babu is partially deaf.
Sukumar tries something different every time, and we wish he did not pick the third reason.
If he was born deaf, then there are ways that deaf people can talk. They can do it by using very advanced speech therapy techniques vigorously from their childhood. There is another way where a deaf person can learn speaking. It is by observing the lip reading and at the same time touching and feeling the sound coming from the throat. Both these are very complex and less successful.
If he became deaf when he cross three years of age, it's somewhat easy to learn and practise speaking because the person is already habituated to do that (hearing sounds or observing people talking). Even in this case, the person can't match up to the speaking levels of an average person.
From the yesterday's teaser, we can see that Chitti Babu is deaf, but he can speak very clearly and appropriately. So, he might have become deaf only after he learnt to speak correctly. (Like how Nayanathara has suffered hearing impairment in the film Naanum Rowdy Dhaan).
There is a scene in the teaser which proves that Chitti Babu is unable to understand the lip reading. (The Scene with comedian Sathya). This ruled out the option that Chitti Babu can understand lipreading. So, Chitti Babu must have got trained very very well in understanding the sounding and speaking the same. But, during 1980's, a person from a poor family with village background might not have the exposure to learn such new things and he might also be not having huge money to invest on the same.
PS: Director Sukumar who is known to be the perfectionist in Telugu film industry might have surely cooked up a brilliant logic of how the 'Sound Engineer' Chitti Babu learned speaking and understanding the sounds. We are eagerly waiting to witness that brilliant logic, and there is no intention of projecting the film or teaser in a negative way and fact, the teaser had its influence on us to think about it in a new dimension.
The film Rangasthalam is scheduled for a grand release on March 30th.